Keyboard Cases Material Details
Skyloong provides various materials of keyboard cases to choose. I will display more detail about the feature of keyboard cases below.
ABS Plastic
 ABS is a conventional plastic material, which is used in most products, such as keycaps, mice, computer cases, etc. ABS material has lower hardness, softer and gentler texture than PBT material. Due to its mature production process, it can have rich colors and low prices, but its material is easy to be polished, smooth and shiny after a long time of use.
Skyloong ABS Black Keyboard Case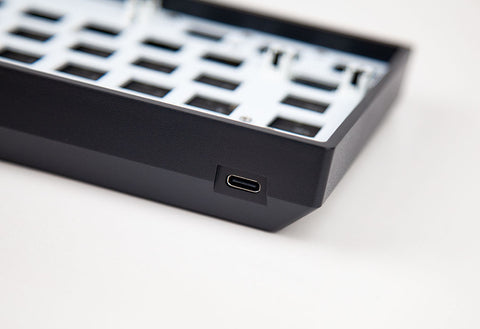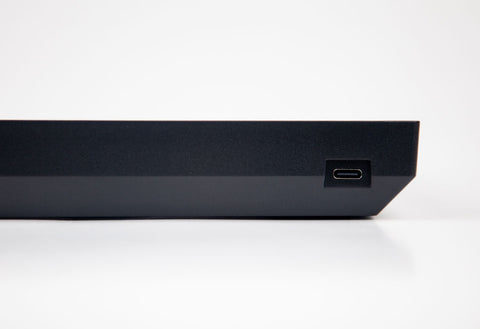 Skyloong ABS White Keyboard Case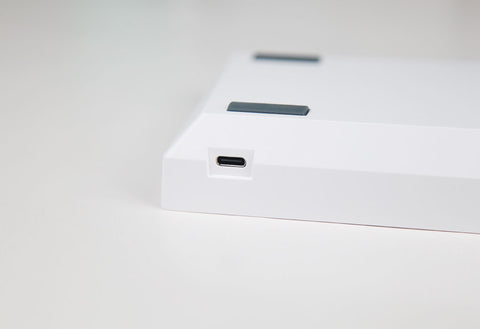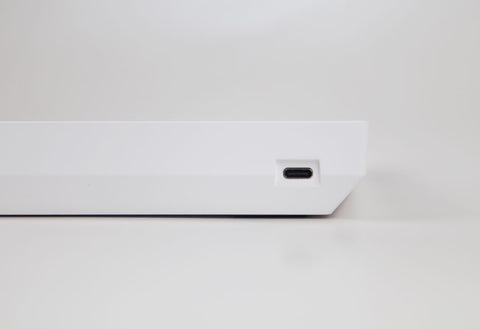 Skyloong ABS Transparency Keyboard Case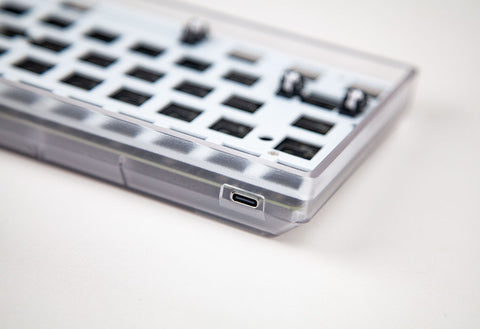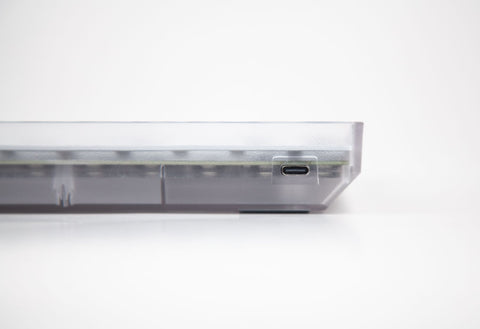 Skyloong Rosewood Keyboard Case
Skyloong wooden keyboard case is made of rosewood. It has the characteristics of anti-corrosion, friction resistance, firm overall structure, smooth and delicate hand feeling. Compared with other keyboard materials, the wooden case has its own unique fragrance of rosewood. If your office decoration or desktop is more natural style, then the wooden texture keyboard can match your style very well.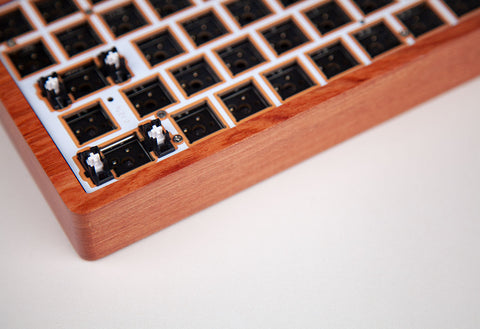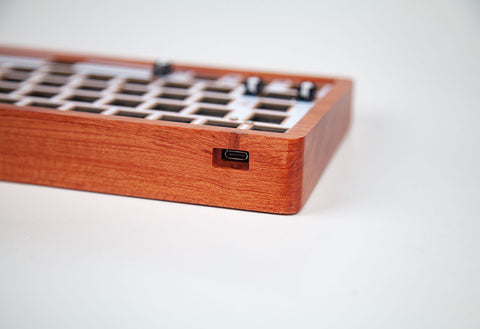 While the solid wood keyboard is popular among users, it also needs to pay attention to some problems unique to solid wood.
Note:
1. Solid wood should not be immersed in water, otherwise, it will cause deformation and cracking;
2. Solid wood should avoid direct sunlight or exposure;
3. When solid wood products are not in use, they can be placed in a cool and ventilated place to keep dry;
DRUM60 Alumimun Keyboard Case
 Aluminum DRUM60 case is made of aluminum die-casting process, which releases high pressure on the molten metal material through the inner wall of the abrasive tool to make it shape. the processing cost is lower, compared with CNC machining methods. In terms of weight, compared to plastic and wooden, the keyboard made of Aluminum will be heavier than the other two, and it will last longer, be more durable, and be less prone to corrosion.
Skyloong DRUM60 Aluminum Black Keyboard Case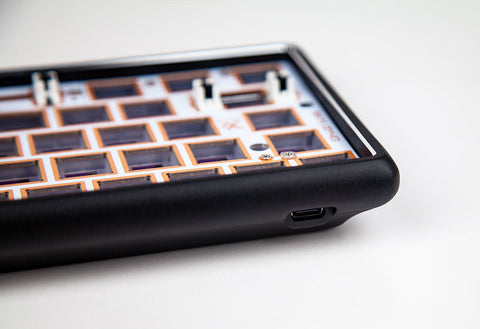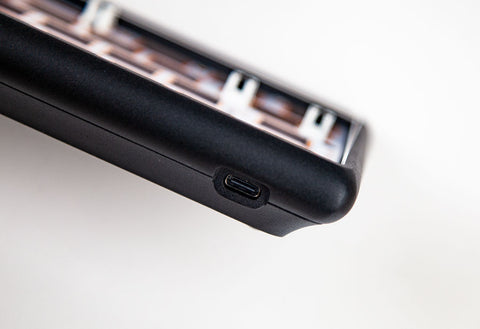 Skyloong DRUM60 Aluminum Black Keyboard Case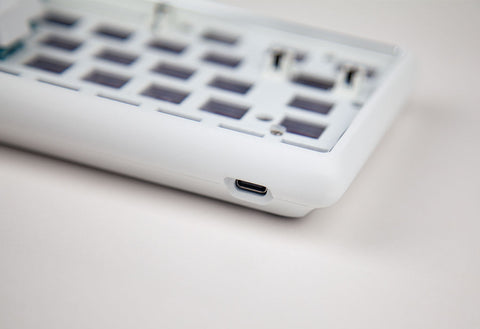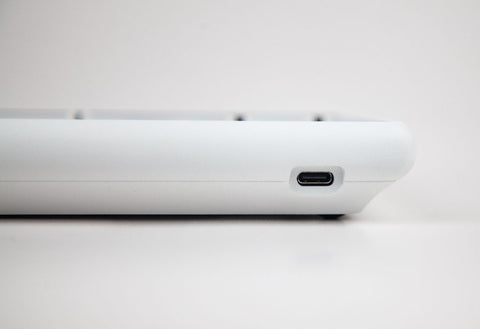 CNC Aluminum Keyboard Case
Compared with the Aluminum DRUM60, the Aluminum CNC keyboard case uses a solid aluminum alloy shell made by CNC machine tools, so in terms of weight, the Aluminum CNC case is heavier than the Aluminum DRUM60, and the percussion sound is crisp. When aluminum is anodized, it reacts with gas to form a rust-proof layer. 
Skyloong CNC Aluminum Grey Keyboard Case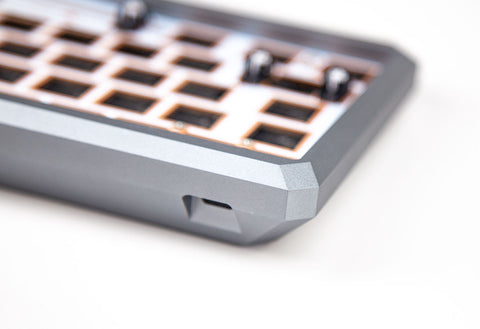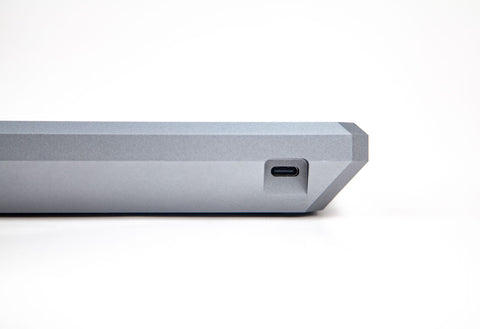 Skyloong CNC Aluminum Purple Keyboard Case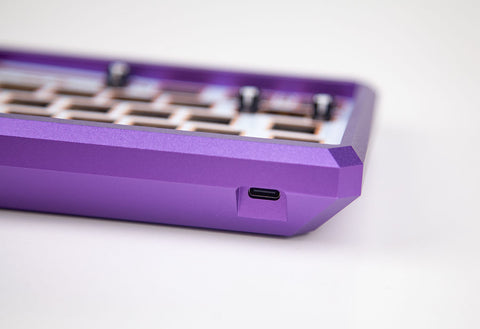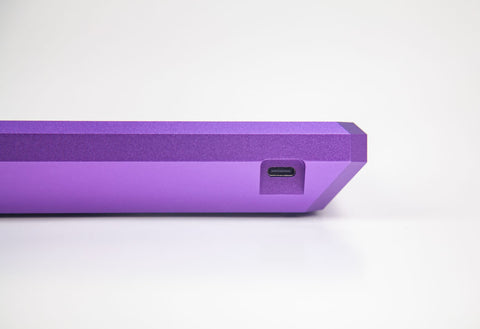 Skyloong PC Transparent Keyboard Case
 The reason why the PC transparent case is expensive is that its low yield increases the cost of raw materials. PC case is light in weight and has good light transmittance. Due to its transparent characteristics, it cooperates with RGB lighting effects to make your desktop cooler, which is also the reason why many customers choose it. There are also customers who worry about the sound of the hard contact between the plate and the case, but this sound disappears under the cushioning of the skyloong lite gasket.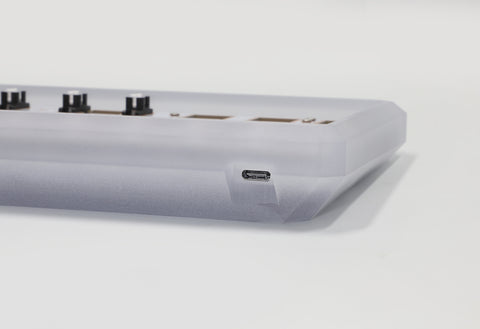 Keycap Features
Keycaps Materials
Skyloong provides three different keycap materials for customer in customized keyboard page.
ABS 
Acrylonitrile Butadiene Stryrene
The most common keycap material, because of its soft and gentle characteristics, is most suitable for long-term typing work needs, so for those who pay more attention to hand-feeling, ABS is the best material for them. Also because of the material, ABS is easier to be polished than PBT.
TO GET MORE DETAIL :ABS Double Shot Keycap
PBT
Polybutylene terephthalate
PBT material is harder than ABS, less prone to deformation, and more wear-resistant. However, it is also difficult to process because of the hard texture, which increases the cost in disguised form. The PBT keycaps are tough to the touch, and the surface of the keycaps has a delicate matte feeling. In addition, the keycap of this material has a large molecular gap and high-temperature resistance. High-end DIY players will buy some white PBT keycaps and use industrial dyes to dye the keycaps to make their own unique colored keycaps. However, this kind of operation is more complicated. It is recommended that you practice with a few keycaps first, and then dye the whole set of keycaps after the operation is proficient.
TO GET MORE DETAIL : PBT Dye-Sub Keycap, PBT Double Shot Keycap
 Silicone
It is worth mentioning that GK2 silicone keycap patent is owned by skyloong. 
Since the silicone keycap was published, in the keycap market dominated by PBT and ABS, silicone keycaps have attracted the attention of some keyboard players. 
The silicone keycap adopts a stepped layout, and the height difference between the key positions is relatively clear. It will be slightly uncomfortable to use for the first time, but after getting used to it, you can clearly experience the feel completely different from the keycaps made of PBT and ABS materials. Silicone keycaps The touch is soft and delicate, It can effectively improve our finger fatigue caused by typing for a long time.
The keycap adopts a split coupling bracket, which is not only convenient to disassemble, but also maintains the uniform force on the keys.
TO GET MORE DETAIL : GK2 Silicone Keycap
Keycaps Profile
The keycaps profile is another detail of the entire keyboard. Different keycap profiles will bring different feel during use.
Skyloong provides three keyboard profiles, such as OEM, GSA, GK2.
OEM: 
OEM profile keyboards: Solar System, Coral Sea
GSA:
GSA Profile Keyboards: Macaron, DOLCH
GK2:
Keyboard Switches
Mechanical key switches are mainly divided into red switches, silver switches, blue switches, and brown switches. The respective key travel distance and operating force are different, and they are also divided into Tactile Switches and linear Switches . The hand-feeling feedback of the four switches are different. The following basic introduction to the four axes takes the Chocolate mechanical switches as a example:
| | | | | | |
| --- | --- | --- | --- | --- | --- |
| | Type | End Force | Total Travel | Pre Travle | Suitable for |
| Red Switches | Linear | 45gf+/-5gf | 4.0+/-0.4mm | 2.0+/-0.6mm | Typist/Office |
| Silver Switches | Linear | 45gf+/-5gf | 4.0+/-0.4mm | 1.2+/-0.4mm | Gaming |
| Blue Switches | Tactile | 55gf+/-5gf | 4.0+/-0.4mm | 2.0+/-0.6mm | Typist/Office |
| Brown Switches | Tactile | 55gf+/-5gf | 4.0+/-0.4mm | 2.0+/-0.6mm | Gaming/Office |
Keyboard Plate
Keyboard plate increases the stability of the switch, and the stability of the metal plate is the best. Different materials can affect the sound of typing.

The Brass plate is the hardest and has the clearest sound.
PC is the softest material in the keyboard plate.
Let's have a glance on the texture of different plate in picture below:
PC
Fiberglass
Steel
Brass
SKYLOONG Keyboard  Driver
Skyloong keyboard driver gives the keyboard more interesting functions, such as RGB customization, macro recording, and key replacement.
RGB Customization
In addition to keyboard DIY, customizing your keyboard's RGB light is also a great way to show off your personality.
The color of the RGB light can be adjusted according to your mood and preferences. You can also use it as a tool for communication and make it more personalized by adding a custom logo or name on the backlit keycaps.
A lot of people are turning to keyboards with customizable RGB lights because they offer an endless amount of possibilities for customization, which makes them perfect for gamers and enthusiasts who want their gaming setup to be unique.
Customization means how many possibilities you can create.
Learn how to change and customize RGB lighting in the video below:
 Keys Replacement
This is another amazing feature, let's take the SPACE key as an example, even though I have detailed this powerful and convenient feature below each product page.
The biggest difference between the PCB board of the SKYLOONG keyboard and the keyboards of other brands is that there are two extra key holes. What are these two keys used for?

I don't know if you have the same experience as me, that is, whenever I want to press the BACKSPACE key after typing a typo, I always touch the INSERT key next to the BACKSPACE key by mistake. This kind of thing happens a lot, and it's the main reason that affects my typing efficiency. Not only does it interrupt my typing rhythm, it even affects my mood whole day because of a keyboard.

Guess what? When we split the redundant part of SPACE into three keys, ENTER, SPACE, BACKSPACE key on the left, middle and right, I can write my article coherently without even raising my hand. This is undoubtedly a huge improvement in our work efficiency.
Learn how to replace key functions with the video below:
Why Choose Us?
We created a separate workshop specifically for this store, dedicated to our custom products, in order to satisfy a segment of customers who are looking for personalization. You can compose your own mechanical keyboard by selecting different components on our custom page, so how many different options can you combine from the current components? Every custom keyboard is assembled from this workshop, quality inspected and packaged for shipment. Keyboard customization will also become our main promotion direction in the future, and we will continue to improve the way of customization in the future, as well as add more different themed keycap designs for customers to choose from, and even customers can provide their own designs.
Why you need a Customized Keyboard?
Custom keyboards are specialized keyboards that allow you to decide which parts fit your needs and preferred typing feel. These usually have more premium components such as an aluminum chassis, different switches, custom keycaps and a variety of theme series.
We actually work at the desk for about 8 hours every day. A good keyboard will please you in sound and feel. What's more, you can customize a custom keyboard that sounds and feels your own. I will never allow a single key in a defective keyboard to keep failing and affect my mood and work efficiency throughout the day, which is very important to me.